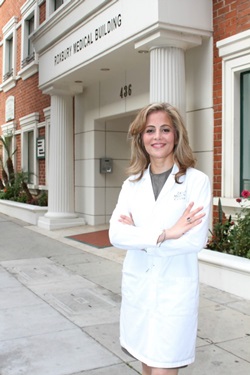 Dr. Kathy Gohar is the premier surgeon for Performing Cosmetic Treatments To celebrity clients in Southern California And has earned her reputation as The most gifted Beverly Hills "surgeon to the stars"

This highly skilled professional is trained in both general surgery and cosmetic surgery, so she understands the medical needs of aging skin. Dr. Gohar is the founder and lead surgeon at the Beverly Hills Cosmetic & Laser Center--one of the leading skin resurfacing medical centers in the Los Angeles area. Dr. Gohar is one of the most talented surgeons in California.

You don't have to be a celebrity to experience Dr. Gohar's Beverly Hills Cosmetic & Laser Center, which is renowned for being one of the most exclusive Cosmetic facilities in Los Angeles.

Dr. Gohar is a proficient surgeon and produces perfect results on body enhancement procedures, from liposuction and tummy tucks to facelifts and breast augmentation. This talented cosmetic surgeon's procedures result in minimal scarring and require relatively minimal healing time. Other facilities featuring enhancement procedures and breast augmentation just can't compare.

Dr. Gohar specializes in cosmetic surgery procedures that turn back the hands of time and clients of her pristine Beverly Hills Institute are thrilled to regain the figures of their youth. Dr. Gohar can perform procedures from breast augmentation to liposuction to non-surgical procedures with ease. Non-surgical procedures such as Restylane, Radiesse, Juvederm, Chemical Peels, Fraxel Laser, Vela Shape, and Sclerotherapy for the treatment of leg veins help to improve patients' face and body. Dr. Gohar's skilled hands have restored a youthful and rejuvenated appearance to patients with cosmetic procedures such as the non-surgical liquid facelift, which makes clients look years younger almost instantly. Procedures such as the Brazilian Butt-lift and breast augmentation add a natural lift and youthful curve to the silhouette.

Another service offered in this beautiful, luxurious and discrete California medical center is breast augmentation. Dr. Kathy Gohar has perfected the art, and makes sure she meets one on one with patients before the surgery to discuss the procedure. One aspect that sets Dr. Gohar apart from cosmetic surgeons at other medical centers in Los Angeles is her care, discretion and attention to detail. Past and present patients alike sing the praises of Dr. Gohar's bedside manner and dedication to performing enhancement surgery to the exact specifications of the client. This experienced and skilled surgeon puts the patients' needs first and gives the same attention to detail in each and every procedure.

It's no wonder that Dr. Gohar's Beverly Hills Cosmetic and Laser Center is rapidly becoming one of the most talked about luxury cosmetic service's center in California's celebrity circles. The facility is discrete and houses some of the most competent technicians in the industry. It is the Doctor's mission to provide a calming, friendly and serene environment for all patients. Though Dr. Gohar's portfolio of surgery and breast augmentations speaks for itself, her loyal patients give rave reviews as well. This surgeon truly has a passion for her trade, and is one of the most highly rated professionals in the industry.