Facials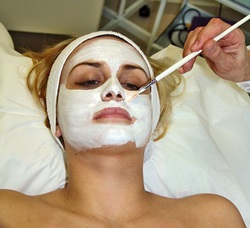 A facial involves cleansing, exfoliating, and giving nourishment to the skin, promoting a more clear look and hydrated face. Facials are often referred to as deep-cleansing facials, or deep-pore cleansing facials, due to extractions.
Steps involved in a Facial
1. Cleansing: To begin, the face must be cleansed thoroughly using a cotton pad or sponge that rubs on a product specific to the patients skin type (normal, dry, oily, sensitive, or mature skin type). Deep pore cleansing is ideal for patients with congested pores. Facial cleansing helps to reduce excess oil without drying the skin, and giving the skin the hydration it requires.
2. Skin Analysis: After cleansing the skin, the esthetician observes your skin closely through a brightly lit magnifying lamp in order to analyze the patients' various skin conditions.
3. Exfoliation: through the use of either a mechanical or chemical exfoliant, the esthetician begins to exfoliate the skin. Mechanical exfoliation has an abrasive texture and usually occurs while a steam vapor is pointed at your face. A chemical peel can be a treatment on its own or as part of the facial itself. Chemical peels are often an upgrade from just the initial facial.
4. Extraction: of blackheads as well as whiteheads can be taken if desired or deemed necessary. All patients have a different toleration for pain and therefore extractions vary for each person. The extractions tend to cause a level of discomfort, especially for those who have thin or ruddy skin.
5. Facial massage: is done using effleurage strokes that help to relax the patient as well as stimulate the facial muscles.
6. Facial mask: that targets the patients specific skin type is then applied. During the facial, the esthetician stays in the room to give you a scalp massage or other services to further the relaxation process.
Advanced Facial
This unique and amazing facial is to make you "young looking within 2 hours", providing visible and lasting results. Essential oils and Vitamins will be used, along with special masks, to make your skin glow for any event.
Stem-Cell Facial
This revolutionary facial rejuvenates your skin in a new dimension. Using apple stem cells of nutripeptides that work synergistically to create the appearance of plump, firm skin while stem cell technology, in an exclusive complex, support natural defense mechanisms and help support cell health. Dramatically reduces the appearance of fine lines due to facial expressions, wrinkles and other signs of aging. The unparalleled high concentration of effective ingredients will give you the maximum benefits.
Aromatic Facial
This facial combines essential oils, a plant concentrate mask, along with relaxing massage.
Ultrasonic Plus Facial
This facial has 3 distinct treatment: Chemical Peeling, Infusion & Ultrasound Therapy (a non-invasive, gentle process, safe and suitable for acne, rosacea- whether you have the most sensitive skin, mature skin, or teen ager skin with acne.
Gentlemen Facial
This unique facial includes extraction, exfoliation, collagen mask and a relaxing tissue massage that utilizes an exclusive skin product created "Just for MEN" for their special skin care needs.
Vitamin Plus
This is a mild facial using essential vitamins to stimulate, tighten and lift your skin for a younger look. Vitamin plus facials help to restore your youthful look, and to exfoliate your skin